"There are certain people you just keep coming back to…"
As of this month, Mid-2000's musical darlings The Fray, have released their "Best Of" album. Which, if you're like me, makes you ponder, "man, it's been a while since I've thought of that group." Add insult to injury, they were recently featured in a "most forgotten modern-bands" list I read a bit ago. I suppose there are a number of reasons for their apparent absence from today's relevant culture. One, sadly enough, is most likely to the fact that their last album Helios was, in short, a dud. While it does have supporters out there. For the most part though, The Fray's new and more electro geared sound (in the steps of Coldplay, perhaps?) left much to be desired. The music, themes,and even Isaac Slade felt a bit disconnected. What's sad is that it seemed to be their response to a demand from an evolving music-industry. They found their music was no longer being appreciated in the world (to some at least), and they tried to change their style to meet those needs. But, while many groups adapting their style can be successful, this one fell flat.
Ultimately though, this is a sad truth. Because for me, The Fray holds a special place in my heart. If you take a look back to 2005, when How To Save A Life was released, you will remember that this soft-rock band were mega-stars. The music industry craved their emotional, personal, rugged, and piano centered persona. In fact, it seemed everyone wanted to follow in their mold. But they stood apart for so many good reasons, and so many greater songs. To this day, How To Save A Life is still one of my all-time favorite albums, since having received it for Christmas the year it was released. The self-titled and Scars and Stories are likewise fantastic, and display some grand musical ballads throughout. Before we get into my Top 10, note there are MANY that hurt to leave off:
Where The Story Ends, Never Say Never, You Found Me, Heaven Forbid, 1961, Heartless (the cover), Little House, and even Helios' Break Your Plans are a few of many.
10. Syndicate (The Fray)
As a kick off to their sophomore album, Syndicate worked marvelously as the introduction to this new journey. While in many ways it sounded like it could have been featured on How To Save A Life, yet it had a new energy, vibe, and some killer piano to more than compensate for its familiarity. The chorus will be difficult to get out of your head…
9. How to Save A Life (How To Save A Life)
For many, the pinnacle of the group. And while this deeply meaningful and gut-wrenching tale is absolutely a backbone for The Fray, I suppose I'll play it up to being overplayed as to it's high ranking. Or for the mere fact that there are far greater ones to follow…
8. Look After You (How To Save A Life)
Truthfully, it was with this single that I knew for certain that The Fray and I were going to be good friends. This perfectly moody, rich, and definitive "driving in the rain" melody is one I will never rightly forget. Even if Isaac mumbles his way through much of it, worse even than myself at 12 years old.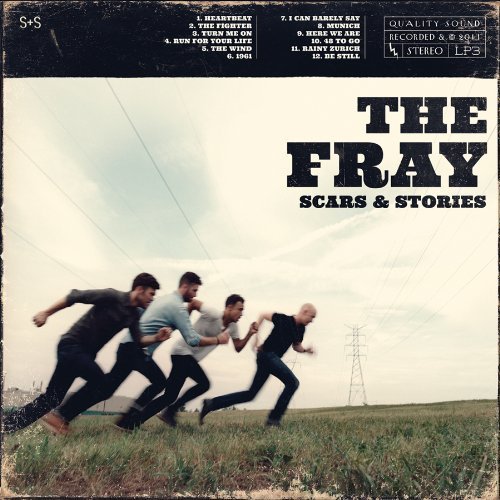 7. Munich (Scars and Stories)
In many ways, this could be defined as The Fray's rendition of an Epic. It shares many grand similarities to the single from this album (Heartbeat – which came close to ranking), with its energetic sound, heavy emphasis on drums, and even a bit of a precise amount of background techno. But ultimately, the fascinating melody to Munich has resonated with me a great deal more than Heartbeat.
6. Vienna (How To Save A Life)
In complete contrast to the prior selection is this stripped down and extremely unflashy ballad. To be honest, this song was considered a "skip track" to 13-year-old Andrew, who didn't know any better. But I have come to be totally engrossed by this easy going, modest, and melancholy song of loss. His defeating admission that "I am already gone," results in somber perfection.
5. All At Once (How To Save A Life)
This one kind of gets into the realm of The Fray's partial "Rock" label, with the opening guitars and all. Yet, like all the other selections, this one is just too stinken' relatable (especially to a 13 y.o. kid). This one even tends to get into the realm of teeny-bopper difficulties. Yet, thanks to nostalgia, and a darn catchy chorus, this one likewise stands the test of time.
4. Rainy Zurich (Scars and Stories)
Once again, words like moody, rainy, and somber come to mind (and it won't be the last time, neither). The Fray just capitalizes on beautiful, relatable, and captivating sounds. But with this little piece, we are introduced to an almost fantastical love tale of sort. One that seems to beautifully sweep you away to another land (or at the very least, a specific European city). It is due to songs like these that make The Fray's Scars and Stories global-like atmosphere work so splendidly.
3. Ungodly Hour (The Fray)
As with Rainy Zurich (and the great Heaven Forbid), you might tend to notice something's a bit different. Well, this difference is none other than guitarist Joey King – Who, while sounding vaguely similar, takes the lead vocals from Isaac. Each time he does so, he always impresses, but this one beats all. As far as depressing songs are concerned, this one has to be in the top 5 of all time. And while that might sound daunting, it still makes for such an impactfully tragic song. One about a couple who, based off the vibe and lyrics, have decided to reluctantly call it quits in the dead of night; at an ungodly hour. The song just sounds like it was made at 3:00 A.M after some confusing tragedy…and it works to chilling perfection.
2. The Fighter (Scars and Stories)
Quite possibly their most poetic song, plus (you guessed it!) another display of an emotional "punch to the gut." This song is quite a masterpiece. Inspired by Norman Rockwell's "Strictly a Sharpshooter" painting, this song tells the tragic tale of a fighter and his lover. It is one that tells both parts of their story. About his need to fight and go each step farther, and her reaction to the unavoidable loneliness she will inevitably feel when he is taken from her. Its catchy and captivating tune might be a bit misleading, but this song perfectly displays The Fray's knack for telling a good story.
1. Over My Head (Cable Car) – (How To Save A Life)
Finally, in a sense, where it all began. I tend to disagree when choosing the classics just for "classics sake." But in this case, it's impossible for my nostalgia to choose otherwise. The song itself is rather fascinating. A song about Isaac Slade's relationship with his brother, the difficulty with a love lost, and the fight many have when facing someone they wish they could help, but they know it to be a lost cause. Add into the mix the steady rhythm, catchy melody, Slade's classic raspy vocals, and the perfect balance of drums, guitar, and classy piano – you have here one of my all-time favorite songs! And the very song that, in my opinion, completely encompasses everything that makes (made) The Fray so mesmerizing.
Hopefully if nothing else, your interest in The Fray has been rekindled. Go back and stream an album or two of theirs. If you are like me, it will bring you back down memory lane. What are some of your favorites I missed, or just got wrong entirely? Regardless, thank you for checking out my humble opinions.